More than 60 cars have already registered.
Don't be left out! Register today!
Summit 2004 - "The Queensbury"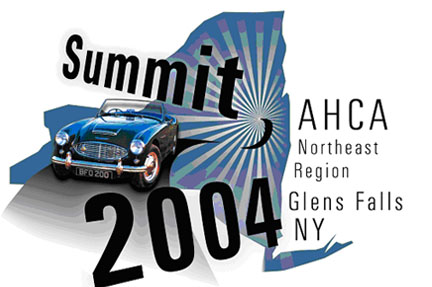 Glens Falls, NY - July 22-25, 2004
UPDATE: Events Schedule Published for Summit 6/15
Thursday:
Friday:
7-8 am Breakfast

8-10 am Registration & Raffle

9-10 am Tech session

10:30 am - 4 pm Rallye to Saratoga Auto Museum; Lunch on your own during Rallye

4-6 pm Hospitality & Registration & Raffle

7 pm -? Barbecue with cash bar
Saturday:
7-8 am Breakfast

8-9 am Registration - Raffle

8 am -12 pm Gymkhana, shopping, touring, etc.; Lunch on your own

1-4 pm Car show

4-6 pm Hospitality & Raffle

7 pm -? Banquet, Guest speaker, Awards
Sunday:
What else do the coordinators have in store? You'll just have to show up to find out. It's not too late to register!
UPDATE: Keynote speaker announced for Summit 5/19
Mike Salter will be the Keynote speaker at Summit 2004. He plans to share with us his adventures in the 2003 Targa Newfoundland in a Healey Hundred.
APRIL UPDATE:
Well the leaves are beginning to show themselves here in the Northeast. This can mean only one thing. Winter has loosened its grip on us and the Healey season is starting. The Summit 2004 Team has been hard at work finalizing the details of what promises to be a wonderful get together in Glens Falls, NY. The Queensbury Inn is working hard to have their new outdoor patio areas in shape for our upcoming meet. I certainly hope you have set the wheels in motion to attend. What?? You haven't filled out your registration yet??? You better get a move on 'cause the rooms are filling up quickly.
In case you haven't heard, our keynote speaker this year will be Mike Salter. If you've never met Mike before, you're in for a real treat. He's one of the most knowledgeable Healey folks I've ever had the pleasure to meet and just a nice guy to talk to. He'll be relating his adventures experienced during the 2003 Targa Newfoundland in a Healey Hundred. Add to that, a rally ending at the Saratoga Car Museum, a challenging gymkhana, and a car show, which the town of Glens Falls is closing down one of their main streets for, and I think we've got the makings for a world class event. Why don't you get up right now, that's right, get up and find a pen, fill out the registration, and pop it in the mail. Then all you have left to do is shine that beast up, make it road worthy, and head to the Queensbury for a fun filled weekend July 22-25. We'll keep the lights on in the hospitality suite.
3/19 UPDATE
Here it is March already! The days are getting longer but we're still wondering if spring will ever get here.
Well, while you're huddled around the fireplace reading this, it's a good time to start thinking about upcoming Healey events. Traditionally, the biggest show in town for the Northeast Region is the annual Summit meet. Summit 2004 will carry on that fine tradition. With a beautiful hotel, beautiful countryside, and beautiful cars, how can you miss?
The meet will be centered at the Queensbury Hotel in Glens Falls, just below the Lake George region of upstate New York. The planning committee already has a lot in store for you like a gymkhana, a countryside rallye, a visit to a local car museum, and lots more!
Visit the Queensbury's Web site at www.queensburyhotel.com to see where you'll be staying. Watch for updates and registration forms in upcoming Northeast Newsletters. Until then, throw another log on the fire, pour another glass of wine and think SUMMER!